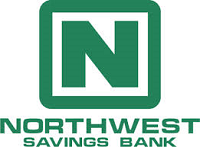 Enroll with Northwest Savings Bank and claim your $200 bonus when you open a new MyNorthwest Checking Account. Within 6 months of opening your new account, you must make 2 Direct Deposits of at least $200 from an employer or other outside source.  The first $100 bonus will be deposited to your account within 14 days of the second Direct Deposit. The second $100 bonus will be paid within 14 days after your one year anniversary of account opening. The MyNorthWest checking account comes with no minimum balances, no monthly services fees, online and mobile banking, and you'll receive a free Visa check card with the account.
Maximum Bonus: $200
Availability: Maryland, New York, Ohio, and Pennsylvania
Expiration: None
Hard/soft pull: Soft
Early Termination Fee: You must wait for at least a year to receive the second $100 bonus.
Don't forget, there is a initial opening deposit requirement up to $1000 with a credit card. See our full review of NorthWest Savings Bank Checking $200 Bonus for more details