Now you can get One Year Subscription to Motor Trend Magazine for Only $3.99 at Tanga by using coupon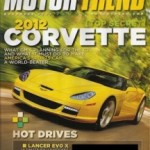 code SWAGGRABBER. Simply be log in Tanga and use the coupon code at checkout. Code valid for you to purchase up to 4 years at this price. May take 8-16 weeks for your first issue to arrive!
Plus you can have 4% Cash Back from Big Crumbs.
Chase Freedom MasterCard $100 Bonus + 5% Cash Back in Popular Categories
The Chase Freedom MasterCard gives you $100 cash back when $500 is spent within 90 days of account activation. This card makes accumulation and redemption of rewards as simple as possible. Benefits include 0% intro APR for 6 months on purchases and 12 months on balance transfers; 5% cash back every quarter in categories such as gas, groceries, travel and home improvement purchases.