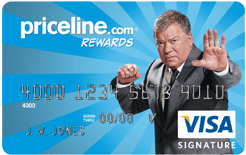 The Priceline Rewards Visa® Card is offering 5,000 bonus points ($50 value) after cardholders make  their first purchase! The card is also featuring a 15 month 0% APR on balance transfers as well as no annual fee! Additionally, you will get 2x the points on all purchases! The Priceline Rewards Visa is a great points-based card with no annual fee. This card is ideal if you use Priceline.com because you'll earn 5 points per dollar spent on Priceline purchases.
Earning Points
As many people know Priceline has 'Name Your Own Price' and a person can earn five times the points on 'Name Your Own Price' purchases, as long as the purchases are eligible. If a person spends a $100 on an eligible purchase, then they will receive 500 points. The five times bonus feature is very good and many people rave about this particular bonus. Cardholders will also earn two times the points on everything else. The good thing about this is that a cardholder can earn unlimited amount of points. Cardholders will earn two points for every dollar that they spend. For example, if they spend nine dollars, then they will receive 18 points. This bonus is a big hit with consumers because they can purchase virtually anything and earn points while doing so.
Redeeming Points
Redeeming points is very easy to do. All a cardholder needs to do is redeem their points for statement credits for purchases on their account that is $25 or more. Once a person has redeemed their points they can reward themselves by getting airline tickets. If the cardholder does not want to put their points towards a plane ticket, they they can use it for a rental car. Many cardholders choose to get a hotel room with the points that they have earned, while other people choose to get gift cards. These are just a few of the things a cardholder can get when they redeem their points.
Priceline Rewards Visa® Card Features:
Earn 5,000 bonus points after your first purchase
Earn 5X points on eligible Name Your Own Price® purchases
Earn 2X points on everything else
Spend your points like cash – Redeem points for statement credits to purchase anything you want
No limit to the number of points you can earn
Low intro rate on balance transfers for the first fifteen billing cycles after account opening
Please see terms and conditions for complete details
Introductory APR
There is a great introductory APR, which is 0%. This means that new card members will pay 0% APR on balance transfers. This introductory APR is good for the first 15 billing cycles. Once the 15 month period is done with, a person's APR will be either 14.99% or 21.99%. The person's APR will depend on how good their credit is.
The Priceline Rewards Visa® Card is worth getting, especially if a person uses Priceline quite a bit. All a person needs to do is make eligible 'Name Your Own Price' purchases and then they will earn a whole lot of points. When a cardholder purchases 'Name Your Own Price' products, then they will find it much easier to rack up a lot of points. A person will even find earning two times the points is easy to do. All a person needs to do is use their credit card for things that they would normally get, and then they will receive two times the points. Before a person knows it, they will have a bunch of points that they can redeem, and then get a lot of cool stuff.