Salem Five Bank is offering a $100 Visa Reward Card bonus when you open a new Salem Five checking account. Salem Five Banks are located through out Massachusetts, however it's available nationwide.
Salem Five Bank $100 Bonus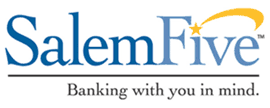 Once you open a new checking account, be sure to complete the Salem Five Checking Registration Form to qualify your account to get your $100 Visa Reward Card.
You must complete one of the three to earn the $100 Bonus:
Complete 2 direct deposit transactions over $250 within 60 days.
Complete 6 online bill pays within 60 days.
Complete 20 debit transactions within 60 days.
Upon qualification, you will receive a $100 Visa Reward Card.  Allow up to 4-6 weeks for receipt of your reward card after completion of program requirements.
Salem Five Bank Promo Details:
You must be a new customer to Salem Five and open a new Salem Five Star, Gold Star, or eOne Checking account as a primary owner.
There is a limit of 1 incentive per new account opened.
The minimum balance to open a personal Star or Gold Star Checking account is $10 in person, and $100 by mail or online.
eOne accounts can only be opened online with a minimum $100 balance.
Fees may apply, so make sure to check the specific details for each account.
Non-U.S. residents and individuals under 18 years of age are not eligible.
If you would like to earn more free money, which who doesn't love free money? Make sure to check out Salem Five ReferFive Program to earn up to $250! Make sure to comment below if you would like to give out referrals to Rebates Money readers.
Sign Up Now to earn this amazing $100 Bonus! Make sure to check out all of our bank promotions for more Bank Deals.