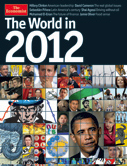 Discount Mags has a 1 Year Subscription to The Economist Magazine (Student Rate – no auto renewal) for $49 when you provide a valid school name and enter code 6571 at checkout + get extra 16% Cash Back through Big Crumbs.
Alternatively, Economist.com offers 12 Issues of The Economist Magazine for $12.
Included:
* Special Issue: The World in 2011
* Special Reports
* Bonus Supplements: Technology Quarterly
* Unrestricted Access to The Economist Online
* Free Access to The Economist in Audio
* The Economist on iPhone & iPad (full access)
Use the Chase Freedom Visa card to start getting cash back on purchases.  Discuss this Economist Subscription deal in our Forums.
Chase Freedom® Visa $100 Cash Bonus
The Chase Freedom Visa card is currently giving out a $100 bonus when you make $799 in purchases in your first three months. You will get 5% cashback on rotating categories like gas, drugstores, home improvement, and 1% everything else. There is absolutely no annual fee. Sign up for your $100 Bonus!