Spend $10 At A World Market Store Will Get A FREE Movie Ticket (valued at up to $12) in the form of Hollywood Movie Money. Plus, you can join World Market Explorer Rewards for your 10% off purchase at World Market printable coupon under "Deals & Rewards".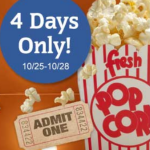 This offer is only valid with purchases made from 10/25 – 10/28.
For the first 20,000 people who enter the barcode on their receipt here.
Offer ends on 10/31/11 or when supplies are exhausted.
In store only.
Find a store near you here.
Chase Freedom MasterCard $100 Bonus + 5% Cash Back in Popular Categories
The Chase Freedom MasterCard gives you $100 cash back when $500 is spent within 90 days of account activation. This card makes accumulation and redemption of rewards as simple as possible. Benefits include 0% intro APR for 6 months on purchases and 12 months on balance transfers; 5% cash back every quarter in categories such as gas, groceries, travel and home improvement purchases.