Amazon is offering Spider-man: The Edge of Time for Wii for $29.99 + Free Shipping as the Gold Box Deal of the Day.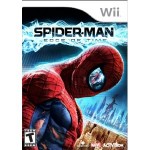 Includes a bonus code to unlock the Big Time Spider-Man suit (limited time only)
Correct a time stream that's gone awry to prevent the untimely death of Peter Parker, which will result in a catastrophic future
Take on the roles of both the classic Amazing Spider-Man and Spider-Man 2099 as you try to save yourself
Explore two connected, evolving timelines in the Amazing Spider-Man's contemporary world and Spider-Man 2099's corrupted, future world
Immerse yourself in the rich, tightly crafted narrative by Marvel veteran and co-creator of the Spider-Man 2099 comic book series, Peter David
Discover the consequences of your actions with all-new, cause-and-effect gameplay that produces immediate and sometimes unexpected results
Watch as your actions as one Spider-Man changes the timeline of the other Spider-Man
Business Gold Rewards Card from American Express 50,000 Bonus Points
The New Business Gold Rewards Card® from American Express OPEN offers 50,000 Membership Rewards bonus points after you spend $10,000 in the first 5 months. That's about $2K per month in spending. The 50,000 points may be redeemed for 50,000 frequent flier miles, enough for 2 flight tickets or $500 in gift cards. There is no annual fee for the first year, a savings of $175.