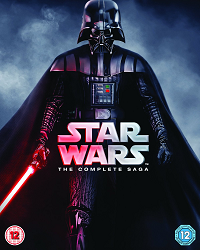 Amazon UK has Star Wars: The Complete Saga (Blu-ray) for £41.51 (price drops during checkout) + £3.08 shipping = £44.59 or $66.70.
Includes: 
Star Wars Episode I: The Phantom Menace
Star Wars Episode II: Attack of the Clones
Star Wars Episode III: Revenge of the Sith
Star Wars Episode IV: A New Hope
Star Wars Episode V: The Empire Strikes Back
Star Wars Episode VI: Return of the Jedi
Star Wars: Episodes I-III Archives
Star Wars: Episodes IV-VI Archives
The Star Wars Documentaries
Experience the spectacular adventure of STAR WARS The Complete Saga in a way only Blu-ray can deliver. This incredible collection unites all six movies in stunning high definition with the purest digital sound in the galaxy. With more than 40 hours of thrilling special features including three bonus discs, you can journey deep into the Star Wars universe. Feel the Force of STAR WARS The Complete Saga on Blu-ray.