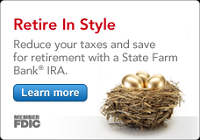 Open a State Farm to claim your $500 Mutual Fund IRA Bonus valid through June 30, 2016. Simply roll over, transfer or add to a new or existing Traditional or Roth IRA and you'll receive up to $500 additional bonus shares in your account. The size of your bonus varies depending on the amount added. A roll over, or transfer of $100,000 will earn you up to $500 in mutual IRA funds.
Account Type: Individual Retirement Account ( Traditional or ROTH IRA)
Expiration: 6/30/2016
Online Trades: None
Closing Account Fee: Make sure to keep the deposit amount in your account for at least twelve months or your award may be reclaimed
Remember to deposit $100,000 within the given time period of June 30, 2016 for the maximum $500 bonus, other amounts can be earned with lesser deposit. I recommend that you keep your account open for at least 12 months to avoid any claw-backs, and lastly, state farm offers a great retirement IRA program, if you're looking to get one step closer to retirement, I suggest you start with State Farm. See the full review of State Farm Mutual Fund IRA $500 Bonus Promotion to learn more!