Subscribe to Bon Appetit Magazine now with coupon code SWAGGRABBER for the special prices: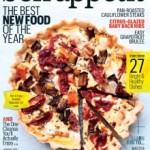 1 year subscription for $4.99
2 year subscription for $9.98
3 year subscription for $14.97
This offer valid today only.
Bon Appetit is THE guide to fabulous food. This magazine subscription is America's leading food, wine, and entertainment magazine. Each issue is filled with a range of recipes from easy to fine dining, elegant entertainment ideas, and wine reviews. Bon Appetit will teach you how to cook like pro simply.