Amazon has put out SUPER WHY! Android App for FREE today only.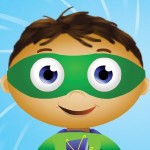 Packages all assets into the APK instead of using a stub APK that pulls down files from a server, as in previous build.
Requires Android OS v2.2 and above as minimum requirement.
Transfers assets to SD card by default in order to conserve memory.
This app features an intuitive, kid-friendly interface, and best of all, kids learn not to be afraid of learning from mistakes. Based on the hit PBS KIDS show, this colorful, action-packed app features the show's four characters in four different games. Journey to Storybook Village and learn the wonders of reading and writing with Super Why, Princess Presto, Wonder Red, and Alpha Pig. And why yes, Alpha Pig does fly!.
Chase Freedom MasterCard $100 Bonus + 5% Cash Back in Popular Categories
The Chase Freedom MasterCard gives you $100 cash back when $500 is spent within 90 days of account activation. This card makes accumulation and redemption of rewards as simple as possible. Benefits include 0% intro APR for 6 months on purchases and 12 months on balance transfers; 5% cash back every quarter in categories such as gas, groceries, travel and home improvement purchases.