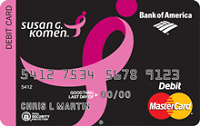 Sign up for a  Susan G. Komen Credit Card, to receive a $100 cash rewards bonus after making at least $500 in purchases in the first 90 days of your account opening. With this card, you receive 1% cash back on purchases, 2% at grocery stores and 3% on gas for the first $1,500 in combined grocery store and gas purchases each quarter. Until December 2020, Bank of America is guaranteeing to Susan G. Komen $3.0 million in conjunction with its Pink Ribbon Banking credit card and checking program. For each new Pink Ribbon BankAmericard Cash Rewards MasterCard credit card benefiting Komen that is activated within 90 days of opening, Komen receives $3 and 0.08% of all retail purchases made with the card. Join the fight against cancer with Susan G Komen. Not only does your spending help women around the world fight breast cancer, but you'll get an attractive cash back percentage from your spending alone!
Bonus Promotion: Earn $100 after spending at least $500 in purchases in the first 90 days of account opening
Annual Fee: $0
Other Benefits: As a Bank of America customer, you can get a 10% customer bonus every time you redeem your cash back into a Bank of America® checking or savings account.
Receive a $100 Cash Rewards Bonus for your Susan G. Komen Pink Ribbon Credit Card by just making at least$500 in  purchases withing 90 days of account activation. There is no annual fee, an attractive cash back percentage, and rewards that don't expire. On top of that, your spending can really help individuals with breast cancer. Fight against breast cancer and earn cash for all of your purchases. Also, Don't forget to check out our full list of Credit Card Deals for all of your banking needs.