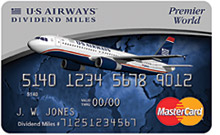 The US Airways Premier World MasterCard® offers 40,000 mile bonus to cardholders after they make their first purchase. You'll earn an additional 10,000 bonus miles when you transfer a balance within 90 days of account opening. There is a 0% Intro APR on balance transfers for the first 15 months after account opening. Some other bonus features that you can enjoy with this card include first class airport check-in line privileges and priority Zone 2 boarding. The reward program provides you with one mile per dollar spent and 2 miles per dollar spent on US Airways purchases.
Choosing the US Airways Dividend Miles MasterCard would be a great idea for any person that does a large amount of traveling on a regular basis. Opening this card would allow you to enjoy up to 50,000 bonus miles. This card would provide you with 2 companion tickets every year, this could help you to plan amazing vacations that your loved ones will remember and cherish. Since you would be getting these tickets for free, you would have more spending money available to take advantage of some of the amazing activities available to you when you finally reach your destination. You would enjoy 1 mile for every dollar that you spend using this card, it is possible to earn free travel through simply spending money on the things that you need in order to enjoy life on a daily basis. When you make this part of your spending routine, you will start to see the miles add up in your account in no time at all.
US Airways Premier World Card Features:
Earn up to 50,000 bonus miles on qualifying transactions
Exclusive: Redeem for flights for 5,000 fewer miles
Enjoy 2 miles per $1 on US Airways purchases
Earn 1 mile per $1 spent everywhere else
Two roundtrip companion tickets each year
Zone 2 priority boarding on every flight
First class check-in
Please see terms and conditions for complete details
Save Money & Time
Also, you would enjoy 2 miles for every dollar that you spend on US Airways purchases, this is a great way to make the most of the way that you already travel. If you are someone that travels on US Airways on a regular basis, you are currently missing out on tons of bonus miles without this card. Having this card in your wallet would ensure that you are able to enjoy rewards every time that you spend money on any purchase with this airline. Also, you would enjoy zone 2 priority boarding on every flight that you take, which means you spend less time waiting around for your flight and building up stress. Additionally, you would be able to redeem your points for flights starting at just 20,000 miles. When you are interested in getting reward travels, it is very likely that you would find many other airlines to be very restrictive in what is available to you. However, you would have a greater variety of options while also using fewer points when you go with this card.
The US Airways Premier World MasterCard® is a great choice for anyone looking to get free US Airways flights. The card lets you earn free flights with one simple purchase (free US Airways flights start at only 20,000 points). Apply online today for this offer and use your card for the first time for an easy 40,000 bonus points. Furthermore, the card is great for those of you who need to carry over balances because of its 0% intro APR on balance transfers for 15 months. Sign up today and take advantage of all these great features!