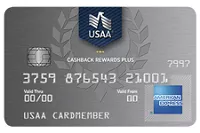 Sign up with a USAA Cashback Rewards Plus American Express Card  and you can earn up to 5% Cash Back when you make an annual purchase of $3000 or more with selected purchases in gasoline and military base purchases. Similarly, you'll earn 2% cashback on groceries after your first $3,000 in annual purchases. You'll also get 1% cashback on all other purchases with no limit! On top of that, there is no annual fees, and no penalty APR!
Bonus Promotion: %5 Cash back when making a annual purchase totaling in $3000
Annual Fee: $0
Other Benefits: Balance transfer and Cash Advance fee up to %3
Receive your USAA Cashback Rewards Plus American Express Card today and start getting %5 cash back on your purchases! This card is ideal for the average consumer. With special benefits for all military personal, I recommend this card for any veteran that is interested in the perks of saving money. Make sure to also check out our complete list of Credit Card Deals for all of your credit card needs!