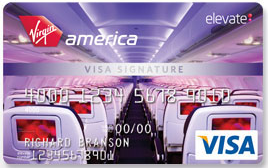 The Virgin America Visa® Signature Card is offering up to 25,000 Elevate bonus points (worth up to three free flights) plus $150 off a companion ticket every year. To earn these bonus points, simply make a single purchase with the card, and you'll receive 10,000 bonus points. Then you can earn 5,000 bonus points when you do a balance transfer of $5,000 or more within the first 90 days. You'll receive an additional 10,000 bonus points when you spend $25,000 on everyday purchases within a year. On average, the 25,000 bonus points would be worth $400 in Virgin America airfare.
Earning Bonus Points
One of the greatest benefits of this specific card is that with it, you are able to earn points at a faster rate. Considering how often you're likely to use the card, you can only imagine how quickly the points will add up in a short amount of time. Reward points is not often one of the main reasons someone signs up for a credit card, but it is a nice bonus feature to have. Once you reach a certain level of points, you can use them for whatever you want, such as a discount off plane tickets or other items. Whether you already have a Virgin America card or this is your first, the Virgin America Visa Card certainly has a lot to offer. With this card, you get more points than with the average card. You get 3 points for every $1 spent on Virgin America, so each time you take a flight somewhere, you're earning points that you can use later on. If you travel frequently for business or personal purposes, this is a fantastic card to have because you know it's going to come in handy.
Virgin America Visa Signature Card Features:
For a limited time only: Earn up to 25,000 bonus points
Enjoy 3 Points per $1 on Virgin America purchases
Earn 1 Point per $1 spent everywhere else
Low Intro rate on balance transfers for the first 15 months after account opening
$150 off a companion ticket every year
No blackout dates on any seat, at any time for reward flights
Please see terms and conditions for complete details
Other Features
With a low intro rate, you don't have to worry about spending a fortune just to get signed up. The low $49 annual fee means you can spend money on your card without having a huge bill at the end of each month. Applying for the card is easy and you can even complete the application entirely online. If you need help, they have a great customer service team who is willing and able to help you out when you need it. You simply need to provide some basic information to get started and apply today.
You can get signed up today, receive your card in just a few days and start enjoying the perks the card has to offer. If you're a frequent flyer, you know you're going to take advantage of the rewards this card has to offer. It makes flying easy and convenient, plus you get bonus points to save on future flights. Once you take all these great features into consideration, it's not hard to see why the card has such high popularity. It's a great option, whether you're looking for a starter card or simply want to add another credit card to the ones you already have.