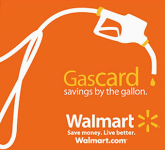 Walmart is promoting a 90-day Rollback at the pump to give customers a savings of 10 cents a gallon on all fuel, gas and diesel, at participating Murphy USA and Walmart gas stations. The discount applies to gas purchases made when using a reloadable Walmart gift card, reloadable Walmart MoneyCard® or Walmart credit card from June 29 through September 30, 2011.
Continental Airlines OnePass® Plus Card $50 Bonus and 30,000 Free Miles
Sign up for the Continental Airlines OnePass® Plus Card and get a $50 statement credit along with 30,000 free miles with no annual fee for the first year. That's a savings of $85. Some travel perks include free checked bag with Continental, primary rental car and travel insurance, and concierge service.