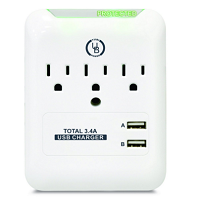 Cable-Mix via Amazon offers the Yubi Power Slim Surge Protector in White for $8.99 with free shipping. (Non-members can spend $35 or more to qualify for free shipping; otherwise, shipping adds $6.43.) That's $21 off list and the lowest total price we could find. It features:
UL Listed
a 3.4-amp outlet with two USB ports and three AC plug outlets.
Great for simultaneous use of six electronic devices as well as two USB devices
Ultimate fireproof safety surge protection
Slim and elegant to use anywhere in your home or office | Wall mounted for more security with enclosed hardware
Built in EM/RFI Filter for maximum reduction of AC line noise filtration.