Occasionally, We at Rebates Money get a deal seems to good not to share, today is that day! Ebates, an online shopping cashback site, is offering a $10 gift card from major retailers such as Walmart, Macy's, Target, and many more after you make your first $25 purchase. Ebates.com is FREE to join + Get a FREE $10 Gift Card + Earn Cash Back for shopping at some great stores! Get 1% Cash Back on your purchase at Walmart , up to 2.5% Cash Back at Target, 6% Cash Back at Kohl's + MORE! There's no better way to shop then get paid to shop! What are you waiting for? Join Ebates.com now!
Ebates Online Shopping Cash Back $10 Bonus Promotion:
Join Ebates.com for FREE for online cash back shopping.
Pick a FREE Gift Card when you sign up ($10 Target, $10 Walmart, $10 Macy's, $10 Kohl's or $5 Ebates Gift Card).
Get your $10 bonus after you make your first $25 dollar purchase!
Ebates Cash Back Shopping:
People often ask: "This sounds too good to be true, how are you able to do it?" Quite simple actually. Just like almost every other online shopping center, they get a commission from the stores when you make a purchase. Instead of keeping that money(like almost all other sites do), they share it with you! As long as 1,600+ of the world's top online stores are happy to pay a bonus to attract the new, valuable customers, Ebates is going to continue to send Big Fat Checks to their satisfied customers across the globe.
It took me less than a minute to sign up, enter my address for them to ship my $10 Wal-mart giftcard to, and click on their Kohl's 6% cash back link for my first shopping experience. No credit card information or profile information required.  Ebates offers cash back on hundreds of online stores, usually ranging from 3-8%. You simply just need to log into your Ebates account, click on the store I'm ordering from, and earn cash back! It's simple, painless and fast. You get cash back and it will add up fast for all your online shopping especially with the holiday season coming up.

Ebates Refer-A-Friend Sign Up Bonus:
Not only is Ebates.com FREE to join with a $10 Gift Card bonus, but you can refer your friend(they will also get $10) to make $50 with two referrals. They have a full list of referral special going on until the end of 2013 depending on how many people you can refer. You'll never pay them anything and four times a year or more, they'll mail you a Big Fat Check, or transfer the money to your PayPal account if you'd prefer. They can even send the money to your favorite charity. All 100% free.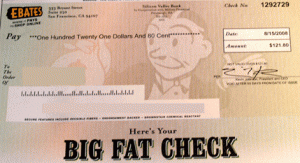 Join Ebates today and start getting paid to shop online! You are getting cash back on purchases you would have made anyway and for referring a few people! Another similar program I strongly recommend is Mr. Rebates($5 bonus). I normally compare the two just in case they have a higher cash back for the store that I'm shopping at. See our full list of Make Money Online!